New Classroom At HAMMER for International Border Security Training
Posted:
Updated: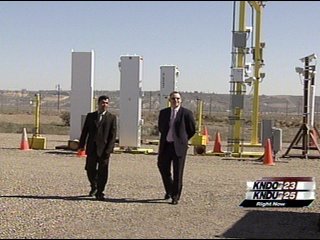 RICHLAND, Wash-- A new classroom is opened at the HAMMER training facility that will be used by countries all over the world, teaching people how to find chemical weapons.

Congressman Doc Hastings was at HAMMER to dedicate it and KNDU also got to tour the classroom. Since 1997 teams from all over the world have been traveling to the Tri-Cities to learn how to detect chemicals used to make weapons.

For international security teams the Tri-Cities is probably not where they'd think they would go for intense training on tracking chemical weapons used by terrorists, but HAMMER and PNNL have been doing this for more than a decade.
"We're currently working with 50 countries and that involves both training and the support we do here at HAMMER. We also take a mobile training team into the country and train their operators as well," said David Kostorowski, PNNL Homeland Security.

A team from Vienna, Austria is learning how to detect plutonium and other chemicals terrorists use to make weapons.
"What they have been doing and need to do is expand their footprint, this new building will allow them to do that," said U.S. Rep. Doc Hastings, 8th District (R)
Teams from PNNL install scanning devices at international ports and borders and bring security teams to the classroom and to a mock port site to find hidden chemicals.


"We're not only looking at commodities or people coming to the U.S. We're looking at scanning containers and vehicles and people traveling throughout the globe. It's a global security program, it's not just a U.S. centric security program," said Kostorowski.
The Department of Energy funds most of the training and security scanners because they see it as preventative steps to protect the U.S. by also helping other countries.