Yakima Police Department Needs more Officers to Fight Crime
Posted:
Updated: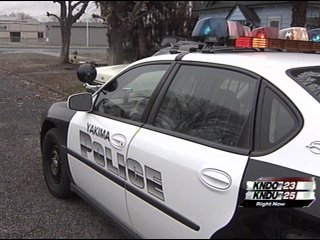 YAKIMA, Wash.- Crime is up across the board in Yakima and police say they need help tackling many problems.
Crime is an issue that people living in Yakima say is always on their mind and these days, it's only been getting worse.
"We all want to feel safe in our community," said Karen Stiles, who lives in Yakima.
"That's an issue big time for this town," said Dennis Arnold, who lives in Yakima.
"Now, I think the gang activity seems to be elevating," said Stiles.
And its not just gangs, crime across the board is up 7 percent. Police officers say especially property crimes like burglaries, and it doesn't look like it's going away.
"With everything going on in the economy it look like states going to start releasing prisoners so probably that upward trends going to continue," said Captain Jeff Schneider with the Yakima Police Department.
This is just one reason the Yakima Police Department is applying for a federal hiring grant. The other reason is they're understaffed and this affects how they respond to calls.
"What it does is it makes people wait longer and we're less able to solve the crime that occurs," said Captain Schneider.
To fix this issue, officers are applying for a $1.5 million federal grant that would pay to hire six more officers. This is something people say is very needed in this community.
"It would help, definitely would help, I'm in favor of it," said Stiles.
"It's probably a good start for six or seven, just as long as they do their job," said Arnold.
Doing their job efficiently Captain Schneider says will be easier once they get more help.
The federal grant needs to be approved by city council before it can be submitted. City Council members are expected to vote on it Tuesday night.