Police Say Religious Group Asking For Money on Street Corners Can't Step into Road
Posted:
Updated: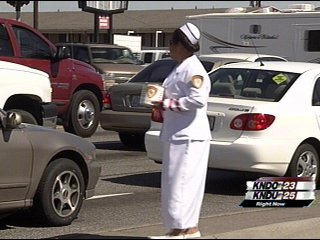 KENNEWICK, Wash-- A while ago KNDU told you about a religious group known for people in white uniforms collecting donations and where the money goes, to explain some of the problems police have with the way many of these donations come in.

The people wearing white asking for donations are part of a religious group called the Missionary Church of the Disciples of Jesus Christ. Police say when they step into the road it is illegal and could cause an accident.


This is a sight familiar to many in the Tri-Cities, people wearing white uniforms asking for money on street corners or at Wal-Mart, but who are they and what is the money going to? Most of the people that KNDU talked to who actually gave them money had no idea.
They are part of a church headquartered in Covina, California. They have a church off Lewis St. in Pasco. They say the money they collect goes to church programs like drug rehab, food donations, and paying for their building.
"I just want to say thank you for your help and the support the community is giving us to help people get closer to God, because they haven't had anyone counsel them," said one of the church members to KNDU in Spanish.
This member told us he only spoke Spanish, but when the police came and cited him for obstructing traffic he actually spoke English very well. They ticketed him because he was stepping in the street and holding up cars.

KNDU also talked to their attorney who has represented them in many cases in California.
"Naturally they would like to have as much access to people in places where people gather and move in the public as possible for example they are quite well known at the Los Angeles International Airport."
Kennewick Police say as long as they are not stepping in the street they are allowed to ask for money on sidewalks. They can also be seen frequently in front of Tri-Cities Wal-Mart stores.