The Coffee Crew Takes Flight Over the Columbia Basin
Posted:
Updated: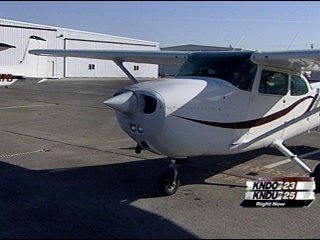 Pasco, WASH - We know some airlines have been cutting back, but taking to the skies over the Columbia Basin for one local group hasn't seen any changes for 15 years. All they need is a few cups of decaf coffee, a destination and they're off.
They've been given the name "The Coffee Crew" by the staff at Bergstrom Airfield in Pasco. This group in their 70's and 80's has met there every Tuesday morning since the mid 90's.
"We met accidentally out here and came together because we fly and we love flying. We love being here because this is where the airplanes are," says J.D. Kesterson, a "Coffee Crew" member.
They all met through pilot lessons they took after they retired. Max Kreiter, J.D. Kesterson, Jim Mathews and Jack Moore start their day off talking politics, drinking coffee and sharing flying stories.
Moore and Kreiter are the only two active pilots in the group and they make it a point to fly somewhere different every week.
"Where are we going today Jack," asks Kreiter from across the table.
They've been to almost every airfield within a 200 mile radius of the Tri-Cities.
Around eight o'clock it's takeoff time. In a rented airplane they get clearance from the control tower and approach the runway.
"This is kind of corny , but it's one of beauty to see the runway as you begin to rise and you look down and you see the markings on the runway and see the Horse Heaven Hills," says Kreiter.
"The minute your wheels leave the ground you have a different attitude," explains Moore.
And this group of retirees are off to new horizons.