Hanford Waste Disposal Site Expanded Far Away from the Columbia River
Posted:
Updated: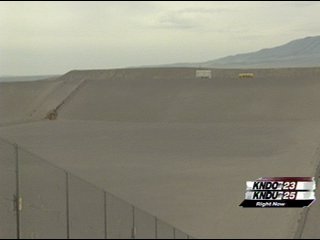 NORTH RICHLAND, Wash-- Two new landfills are completed that are far away from the Columbia River and are ready to start taking waste that is currently very close to the river.

Washington Closure Hanford now has eight disposal cells located away from the Columbia River. They can hold up to 11 million tons of Hanford cleanup waste that was once near the river.
"The importance of the work that Washington Closure is doing along the river corridor is cleaning up the waste that is near the river and that waste is coming here to central plateau in this lined facility. That's the importance, to get the waste away from the river and into the approved facility," said Cameron Hardy, DOE Spokesman.
Bruce Covert is the director of this operation overseeing 250 containers, each holding 20 tons of waste being brought to this site each day. He says adding two new landfill cells really helps accelerate cleaning up Hanford.
"It's important to bring the waste from along the river into an engineered landfill. As I mentioned to protect the river and to do that is to remediate the burial grounds bringing the waste to a landfill where it can be safely stored for years to come," said Bruce Covert, WA Closure Hanford, Director of Waste.
Washington Closure is also among the many contractors to receive money from the American Recovery Act.
"For stimulus money on this project we will be building new cells, along with the increased volume of waste coming in, and facility upgrades and that would be increasing our employment," said Covert.

They plan to build even more cells once they reach capacity on the new ones in two to three years.