"Tax Day Tea Party" Coming Up
Posted:
Updated: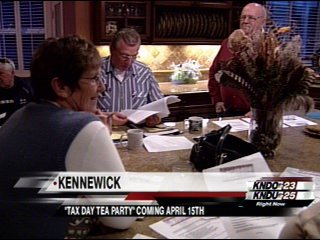 KENNEWICK, Wash. - A group of people met Thursday night to talk about the upcoming "Tax Day Tea Party" to protest government spending.
This is a modern day tea party and they're happening nationwide on tax day, April 15th. Volunteers want to let Washington lawmakers know how they feel about what is happening to fix the U.S. economy.
A small group met tonight at a home in Kennewick to plan next Wednesday's event. It's a group who originally met online and has now grown to about 150 people. They all plan to meet at John Dam Plaza in Richland in a town hall style meeting allowing everyone to voice their opinion. But the goal is to have a party, without having a party.
"This cuts across party lines. This is not democrat or republican. It's not a liberal or conservative. We'll have a little bit of everybody there. But no, no legislators," said a concerned tax payer and tea party participant Leon Howard.
They're may not be any legislators at the Tri-Cities "Tea Party", but they're definitely going to hear about it. Organizers will make their own version of the Declaration of Independence and a Re-Ratification of the constitution. The documents will be signed and hand delivered to representatives in Washington D.C.
The "Tax Day Tea Party" is April 15th from 4:00 p.m. to 7:00 p.m. at John Dam Plaza in Richland.