Seven CWU Student-Athletes Honored in Olympia for Their Achievements
Posted:
Updated: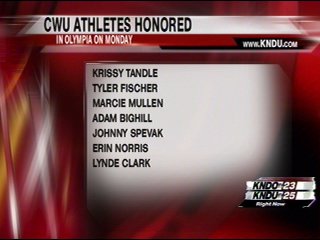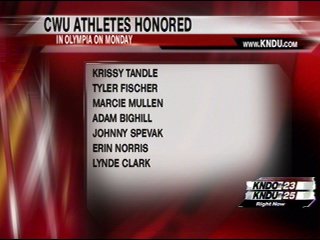 Ellensburg, Wash. - Seven Central Washington University student-athletes were honored in Olympia, Wash., April 6 by the Washington State House of Representatives for their outstanding achievements.
The students have all shown perseverance in the classroom, at their chosen sport, and throughout life. These attributes are what guide the National Consortium for Academics and Sports when choosing student-athletes for recognition.
"These are the real cream of the crop for Central Washington University," says Athletic Director Jack Bishop. "They not only have high GPAs, they are also leaders."
The students honored in Olympia were Krissy Tandle (Wenatchee, track and field), Johnny Spevak (Edgewood, football), Erin Norris (Spokane, volleyball), Tyler Fischer (Cashmere, track and field), Lynde Clarke (Albuquerque, NM, soccer), Adam Bighill (Montesano, football) and Marcie Mullen (Lyman, track and field and cross-country).
Joining the students for the ceremony were CWU's Athletic Director Jack Bishop, Assistant Athletics Director for Compliance Gary Hyatt, Director of Government Relations Ann Anderson, and Government Relations Specialist Steve DuPont.
Opening remarks were made in the rotunda by Reps. Norm Johnson and Brad Klippert, both CWU alumnus, and followed by speeches by Rep. Bruce Chandler and Joe Schmick. Rep. Judy Warnick presented the awards.
The resolution was read and followed by a presentation from Rep. Eric Pettigrew, who spoke about the importance sportsmanship. Reps. Mike Hope and Bill Hinkle spoke at the event.
CWU had the second-largest group of athletes to be given this honor. The students toured several parts of the capitol, had many photographs taken with representatives and were given certificates for their achievements.
"They are the very best of the best and we're all very proud of them," Bishop says.