Bill Muncey, Chip Hanauer inducted into Unlimited Hydroplane Hall of Champions
Posted:
Updated: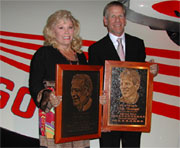 PHOTO: Hydro & Raceboat Museum
Thanks to Steve Montgomery for the story...
KENT, Wash. - Unlimited Hydro Hall of Champions Honors Muncey, Hanauer .
Two of Hydroplane Racing's greatest names became the first members of the Hydroplane and Raceboat Museum's Unlimited Hydroplane Hall of Champions at a dinner and induction ceremony Saturday evening at the Museum's facility in Kent, Washington.
KIRO TV's Steve Raible served as Master of Ceremonies for the event, which included video highlights of both drivers' careers and comments from legendary Hydro broadcaster Pat O'Day .
Hydroplane and Raceboat Museum Board of Directors President Eric Mann explained that the new Unlimited Hydroplane Hall of Champions recognizes a career of excellence and success on the racecourse, while the existing Hall of Fame includes deserving individuals from various phases of the sport.
Mann then turned the event over to Raible, KIRO TV's award winning news anchor and host of Channel 7's Seafair coverage, who did a masterful job of guiding the attendees and honorees through an evening packed with memories and emotion.
O'Day shared an audio clip of his call of a Spirit of Detroit final heat in which a 24 year-old Hanauer, driving the Squire Shop, nearly caught Muncey by surprise at the finish line, serving notice that he would be a force to be reckoned with in the sport. O'Day also observed that if Bill Muncey were alive today, the San Diego race would not be in jeopardy, adding, "Bill just wouldn't let that happen."
Video presentations produced by the museum's Don Mock, highliting the lives and careers of both drivers, brought cheers and applause from the appreciative audience.
Fran Muncey thanked the museum and the attendees for honoring the life and career of her late husband. All four of Muncey's sons, Edward, Wil, Kenton and Dorian, shared memories of their legendary father.
Hanauer unveiled the bronze plaque, which will hang next to that of his mentor in the museum's new Hall of Champions, and thanked his father Stan and other family members for the support he received over his long career. He also saluted the many audience members who had been involved in his career as owners, crew chiefs, and crewmembers.
Bill Muncey is Unlimited Hydroplane Racing's all-time winningest driver, with 62 victories, 8 Gold Cups and 7 National Championships. Hanuer retired with 61 career wins, rather than eclipse the record of his hero and mentor. Hanauer also won a record 11 Gold Cups and 8 National Championships.