Stocks down...Obama Economy Speech...Retail Sales Slide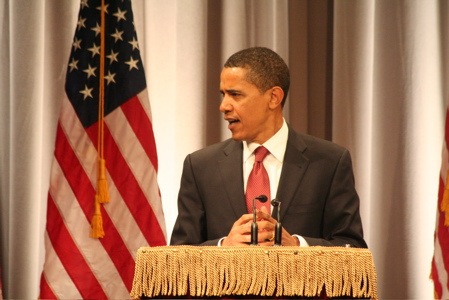 Associated Press - April 14, 2009 10:23 AM ET
NEW YORK (AP) - Stock prices are falling to begin the session. The Dow has been down more than 100 points.
WASHINGTON (AP) - President Barack Obama is to give an update today about economy at Georgetown University in Washington. He's expected to take a glass half-full view of the situation, but isn't going to make any significant policy announcements.
WASHINGTON (AP) - The government says retail sales were down in March, marking a speed bump to recent hopes that the economy has been bottoming out. The Commerce Department reports a 1.1% drop, led by slumping auto sales.
WASHINGTON (AP) - Federal Reserve Chairman Ben Bernanke is citing "tentative signs" that the recession may be easing. He's also warning that any hope for a lasting recovery depends on stabilizing financial markets and getting credit to flow. The remarks are prepared for Morehouse College in Atlanta.
WASHINGTON (AP) - Good news for drivers planning summer trips. The federal government says gasoline prices are expected to stay relatively low. The Energy Information Administration looks for regular gas to average $2.23 a gallon during the April-through-September driving season.
Copyright 2009 The Associated Press. All rights reserved. This material may not be published, broadcast, rewritten or redistributed.