Japanese Foreign Exchange Students Impressed With Pasco Landscape
Posted:
Updated: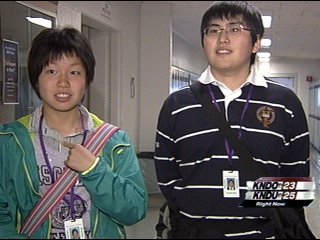 PASCO, Wash.-- Some new faces are roaming the halls of Pasco high, with 120 Japanese foreign exchange students.
With a dictionary in hand these students say everyone in Pasco has been very welcoming so far.
"Very friendly students," said Kanako Zempo, a Japanese student.
While it's been a bit of a culture shock for them it's been the same for Molly Tuinstra, who's hosting four of them at her house.
"It's kind of crowded at my house and it's a lot like playing charades, a lot of the time with the language barrier, but it's a lot of fun," said Tuinstra.
But even through the language barrier these students managed to tell us their favorite part of Pasco is the landscape.
"Stars, many stars, no Japan, light up, because light up," said Zempo.
She means in Japan you can't see the stars in the sky because the lights are too bright. But the one star these students are excited to see on Wednesday is on the baseball field in Seattle.
"Ichiro, I want to see Ichiro," said Zempo.
These students say they're not homesick yet. It's learning overload, in and out of the classroom.
"Yesterday I ate tacos, tacos, very exciting," said Zempo.
While communicating may be a bit of a challenge, it's all in good fun.
"Making sure they understand anything that we're saying, there's a lot of pointing and sign language," said Tuinstra.
On Thursday the Japanese students will be hosting an international night at Pasco high at 6:00 p.m. They'll be sharing some interesting aspects about their culture including food and clothing. It's free and open to the public.