Kennewick Police Think String of Burglaries May Be Linked
Posted:
Updated: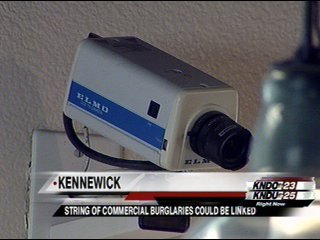 KENNEWICK, Wash-- Police say a string of commercial burglaries in the Tri-Cities may be linked. Grand Central Coffee Station on the West Clearwater Ave was one. Saturday night burglars stole almost $9,000 from the store.

Police say the same suspects may have been involved in a slough of other burglaries in the Tri-Cities.

Since December there have been several burglaries and police say it could be the same criminal team each time. They hit a Subway near Southridge three weeks ago, a Quiznos, and a coffee shop and many more businesses in the Tri-Cities.
"The common theme that we are seeing is phone lines being cut, alarm systems being disabled and heavy industrial tools being used to cut open doors, cut open a safe or remove things," said Sgt. Ken Lattin, Kennewick Police Department.
The business managers KNDU talked to say it's like the thieves pre-meditate the burglary. They knew where the safe was at Subway they even brought a welding tool to break into it.
"They knew where everything was and how to break in. It's a difficult safe to get into, they used a welding machine," said Ryan Phelan, Manager of Subway near Southridge.

At Grand Central Coffee Station they knew where security cameras were and the thieves were smart enough to cut phone lines so the alarm system company wouldn't be contacted.
"I have no idea why people would choose here, it's on a public street. The only thing I can think of is that they knew when we were closing," said Molly Morrison, Manager of Grand Central Coffee Station.
To keep your business safe police say contact your alarm company and make sure that if your alarm ever goes off they contact police immediately.

If you have any information that could lead to the arrests of the burglars please call crime stoppers at 586-TIPS or 800- 222-TIPS you could receive up to $1,000 for your help.