Local Program is Helping Parents Regain Control Over Children with Behavior Issues
Posted:
Updated: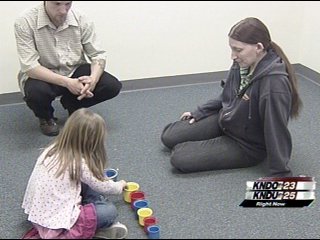 YAKIMA, Wash.- A local program is working to help families cope with kids that are out of control. The Valley Intervention Program shows parents how to regain control over their children.
Rosa and Troy have been bringing their daughter, Angel, to this intervention program for two months, in an effort to control her tantrums.
"You know normal little fit throwing they kind of exceeded into monster fits," said Rosa McCartney, a mother enrolled in the program.
"There's kicking, screaming, biting, acting out," said Lisa Souers, the program director.
This program helps teach parents how to communicate and control their children's behavior.
"Little kids like angel tell their parents what they're going to wear, what they're going to eat, what they're going to do," said Souers.
Parents and children work in a controlled area. While parents like Rosa and Troy interact with Angel and ask her to play with certain toys and then put them away, a counselor observes how the family communicates and how angel reacts to her parents.
"A lot of parents come in and all they know how to do is punish kids for bad behaviors instead of reinforcing children for good behavior," said Souers.
The counselors encourage parents to be more positive. Over the past two months, Rosa and Troy say they've seen a big change in their daughter.
"She has totally flipped around and things are a lot easier now, she listens well, her behavior has changed," said McCartney.
"The both of us we just think its the greatest thing in the world," said Troy Chesier, a father enrolled in the program.
"She would tantrum to get what she wanted now she can use her words," said Souers.
Angel is four-years-old and while day care and starting school was a concern, now her parents are confident she can handle that social setting.
"These are kids that are noticed for being out of control so if we can get them under control in a home environment we can definitely get them ready for kindergarten," said Souers.
Counselors say most parents usually see a change in their parenting and in their children's behavior in the first few months.