Historic Hanford N-Reactor Almost Demolished
Posted:
Updated: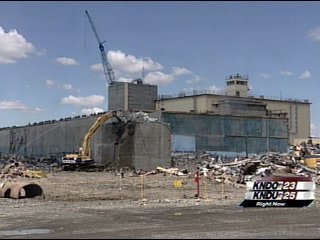 NORTH RICHLAND, Wash-- The last nuclear reactor to be in production on the Hanford Site is nearing the final stages of demolition.


"It's very appropriate that we come here so much has been done to build the military strength of the U.S. and to find a chance to strike a blow for peace," said President John F. Kennedy, in 1963.
President Kennedy spoke at the ground breaking of the N-reactor in 1963. Not only did this reactor produce plutonium all the way up to the end of the Cold War in the1980's, but it also produced electricity, enough to power Seattle.
"From an environmental stand point it's a major focus for all the stake-holders to clean this up and reduce the risk to the workers and to the environment and the river," said Bobby D. Smith, Washington Closure Hanford.
Its just feet away from the Columbia River and once inside were highly radioactive chemicals that produced plutonium. For 75 years the N-reactor will be cocooned and shut off from the world.
"I feel good about this, we're working to a safe mode. We take care of our people. We're taking care of the environment and the river. We're putting everything in a safe configuration," said John Carrancho, Washington Closure Hanford.
Workers will continue smashing walls and taking apart boilers so that in about three years the N-reactor will be completely cocooned.