Ethanol Causing Damage in Small Engines
Posted:
Updated: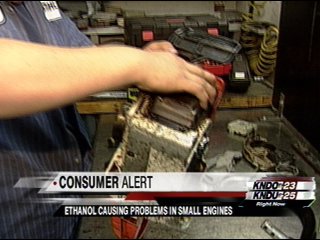 KENNEWICK, Wash. - Gas prices may be going up, but it's not the price of gas causing concerns, it's what's in the gas that has customers complaining.
Small engine mechanics have an enormous amount of machines to repair right now. Everything from lawn mowers, weed eaters, scooters, even some small boat engines. They say this time of year is always their busiest, but they say ethanol that sat in engines all winter long has caused corrosion to the engines.
As employees at Farmers Exchange in Kennewick wash the outside of their lawn mowers, it's inside the engine that's really needing a deep clean.
"These are all the machines just waiting for repairs," said Les Evans, Farmers Exchange Repair Shop Manager as he looks over hundreds of lawn mowers. He's heard countless complaints from customers having problems with their lawn equipment. "It won't start, that's the biggest complaint we get, it won't start."
Sound familiar? Here's why in simple terms, small engine mechanics nationwide are seeing engine damage they claim is attributed to the increase of ethanol in fuel. They say as it's stored over the winter months, the ethanol begins to eat away at parts of the carburetor and clog's up the jets, causing the engine to fail.
Mechanics at Columbia Grain and Feed in Pasco are seeing similar trends. "We're swamped," replied Repairman Porfirio Mendoza when asked how business was going. He's seeing much of the same, broken down lawn equipment that won't start. And with at least 10% of ethanol in gasoline nationwide, mechanics say this problem isn't going away soon.
"It's just a government standard. It goes well in the auto industry, but smaller engines have smaller clearances, smaller parts, so it's a bigger issue for us," said Mendoza.
Ethanol trade groups would argue their extensive testing shows no harmful effects on small gas engines that run on ethanol. But mechanics still recommend not leaving gas in smaller engines longer than a month at a time, use the highest grade at the pump, and wash out your engine before using it.