Students Prepare for Future at CWU's Job Fair
Posted:
Updated: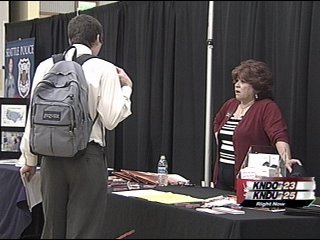 ELLENSBURG--The job search for people just out of college is usually tough. But college grads from the Class of 2009 are finding this year's job market is different from past years.
With jobs--and money--harder to grab right now, job fairs like the one held at Central Washington University on Thursday can take on more importance for graduates-to-be.
Stephanie Wohlfarth graduates with a marketing degree in June. She started feeling around for a job several months ago, but responses are colder than she'd like.
"I've talked to a lot of people who are like, 'Yes, we'd like to hire, but as of right now we have a hiring freeze, so we'll take your information and keep it on record until this hiring freeze is over,'" Wohlfarth said.
Some employers say that's not the case in all fields.
Several police agencies attended the fair. They're seeing more applicants than they're used to.
A local retail manager says he's seeing the same thing.
"I don't believe they've changed from our basic philosophy which is always find and hire the best people available. I think the thing that's changed with the economy is that there are more of those people available."
Clark's a regular at the CWU fair. He says students can't be picky, especially right now.
"They need to find at least something in any sector to get some experience right out of school rather than do nothing."
Most students seem to understand that and are keeping positive.
"There are still some out there," Kyle Lunzer, who's looking for an accounting job, said. "I'm still keeping my head up, consistently checking the websites of the companies I want to work for and looking through the newspapers, online, and going to job fairs."
"Not looking for necessarily like a huge paycheck at first," Wohlfarth said. "More for the experience."
Wohlfarth said she may take an internship after graduating with the hope it turns into something more permanent. She didn't necessarily expect to find her future job at the fair.
But, when those hiring freezes thaw, she'll be ready.
"I came here with an open mind thinking of getting practice talking to people and knowing what kind of questions to ask."