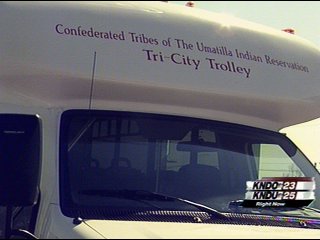 PASCO, Wash.-- A new way for people living in Hermiston to travel to the Tri-Cities is coming soon. It's set to run Monday through Saturday.
The new shuttle is being run by Tri-City Transportation Services but it's actually being funded by the Tribes of the Umatilla Indian Reservation.
Two new shuttles will be stationed in Pasco and can fit about 12 people. They also have access to handicapped capabilities. The new shuttle been in the works for a couple months.
It will make stops at the Huntington and Three Rivers Transit Centers in Kennewick and some other stops in Pasco. Here's the best part, it's free.
T. C. Transportation staff say they're hoping it will help bring in business from Oregon to the Tri-Cities.
"Folks can come over and do dinner and a movie, and do a little shopping at the mall, there's an actual stop at the mall as well," said Ron Davis, with T. C. Transportation Services.
The stop at Columbia Center Mall is only on Saturdays. Davis says it's costing about a hundred $100,000 a year to run the service. It's set to start on Monday.
For a copy of the pick-up schedule head to the On-Air Links Section of this web site.