Family Remembers Juanita Montelongo's Death To Domestic Violence in Pasco
Posted:
Updated: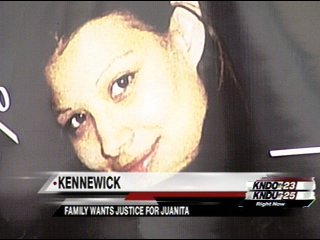 KENNEWICK, Wash.-- Juanita Montelongo would have been turned 28, on April 17th, 2009.
Her life was cut short at age 21. In 2003-prosecutors convicted her then boyfriend Delonde Pleasant for beating her to death.
The painful scars of domestic violence live with this family every day.
"Our family suffered a real loss when she was beaten and taken from us, and we just want to let people know thanks for coming to support us," said Angelica Ortega, one of Juanita's cousins.
It's support this family needs the most, as the case goes back to court.
Back in 2003 Delonde Pleasant was convicted of first degree manslaughter and sentenced to 25 and a half years in prison.
The latest court documents show pleasant is now appealing his sentence and asking for a jury trial.
"He's obviously an angry man, he needs to be there, that's where he belongs," said Ortega.
During the trial emergency room doctors described the beating as one of the most severe they'd seen in years. Juanita suffered severe hits to the head.
"And this is where it can lead, it can lead to death," said Johanna Martinez, a friend of Juanita.
Juanita left behind two children, now 12 and 8 years old. For this family it's their mission to educate others so the same violence doesn't take another life.
"If we can stop just one domestic from this, then it makes it worth all our while," said Ortega.
Delonde Pleasant's next court hearing is set for May 5th. It's to decide whether or not to convene a jury for re sentencing in his case.
All the money raised during Montelongo's vigil goes to Domestic Violence Services.