Identity Theft Awareness Shred Day
Posted:
Updated: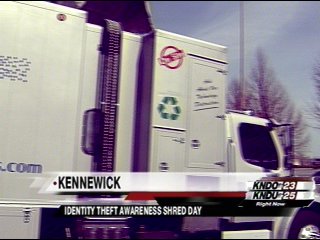 KENNEWICK, Wash-- Identity theft is becoming more and more common and it's surprisingly easy for people to get your personal information. Police officers teamed up Saturday to help protect you by shredding personal documents.


Police say shredding old checks could prevent you from having your identity stolen.

You may think your old income and credit card statements wouldn't have enough updated information for a criminal to pretend to be you, but police say it happens all the time. You can't just throw these items in the trash, because most of the time they find this information in your garbage can.


At both the Kennewick and Richland Target stores police were shredding anyone's documents for free with the help of Columbia Industries. They want to shred old bills, check books, and anything that has your information on it.


"Those documents give people the opportunity to get financial information, perhaps use it in a form of identity theft. This is away for people to get rid of that stuff. it's by donation only so it's really economical," said Mike Blatman, Kennewick Police Department.
One woman even brought 30 years worth of old checkbooks. If you have documents to shred you can take them to Columbia Industries off Dayton Street in Kennewick for a small fee.