Apple Cup Rides On Despite Recession
Posted:
Updated: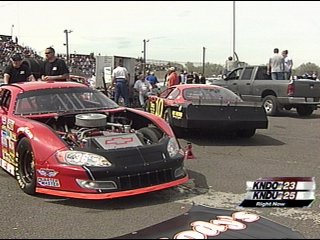 YAKIMA--Another season of racing kicks off at the Yakima Speedway this weekend with the Apple Cup.
But how's the recession affecting the speedway and drivers?
It's the 43rd running, and the first race during a recession in quite some time.
But, the Yakima Speedway's general manager said it hasn't slowed down this race.
"It hasn't seemed to affect us," G.M. Steve Conduff said. "[We've] got real good car counts here this weekend; the fan base looks real good."
One local driver has had to downshift.
"I lost a couple sponsors this year so it's pretty tough in that aspect," Erick Hargraves said. "You just have to do a lot more [appearances] for them."
Hargraves said he won't run as many races as in years past, but the $5,000 first prize is too much to pass up. This race still brings in plenty: around 4,000 people and more than $500,000 for the track and surrounding businesses, according to Yakima Speedway owner Ted Pollock.
"Everybody wants to come here, it's centrally located, it's a fast track, the weather's nice usually in April," Hargraves said. "It's just a fun place to be."
While some drivers might be cutting back, the speedway will still host a full slate of races every weekend from May through September.
"Things look real good for us," Conduff said. "We feel that a lot of the competitors are choosing to stay here and race, and the spectators are coming here locally to enjoy a car race."
A race with as much history as the Apple Cup rides on, recession or not.
"Even during hard times, if [people] go ahead and put the finances together for a weekend like this they're going to get a full action-packed weekend," Conduff said.