Fraser Wins Apple Cup at Yakima Speedway
Posted:
Updated: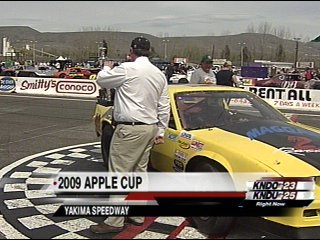 JASON FRASER WINS 2009 APPLE CUP
YAKIMA, Wash. -- They say that when Jason Fraser starts winning the big money races there will be no stopping the young driver from Snohomish, WA. Well, Fraser picked up his first big money win $4,000.00 from the 2009 Apple Cup presented by Columbia Asphalt at ASA Sanctioned Yakima Speedway.
Fraser held off veterans Pete Harding of Surrey, BC and Gary Lewis of Snohomish, WA for the final 89 laps to win his first ever Apple Cup.
After two attempts at getting the race started the defending local Late Model Champion Mike Longton led the first 33 laps before a broken axle ended his day. Longton looked to be the dominate car in the field all weekend long as he also set fast time with a new track record in qualifying at 18.732 or 96.092 miles per hour. He also won his qualifying heat race on Saturday to earn the pole position for the 43rd annual event.
Inheriting the lead on the lap 34 restart was Fraser. Behind him, Lewis was holding off Harding until the 59th lap when Harding got underneath and went by for second. Harding made repeated charges at the back bumper of Fraser, while fending off Lewis over the final half of the race.
On lap 74, the top four cars of Fraser, Harding, Lewis and Jeff Jefferson were within 9/10ths of second apart.
In the companion divisions, local points race action came from three divisions. The H&H Furniture Pure Stock 25 lap main event winner was Jay Younker. Younker picked up the lead from early leader and defending class champion Tyson Richter on lap 9 and led the rest of the way. The rest of the top five were Ron Pepper, Joe Estep, Jeff Liebert and Derek Raptcheff.
The 35-lap Burger Ranch Sportsman main event winner was Randy Marshall, Jr. who is picking up right where he left off last year with a dominating win. Marshall pulled away the last 27 laps to beat John Raney, Reese Kastl, defending class champion Mel Patnode and pole-sitter Jesse Vincent for the victory.
The 50 lap RJ's Tire Factory Super Street win went to Josh Wilson from Everett, WA. Wilson was the third leader of the race, picking up the lead from Dusty John who pitted on lap 34 after a late race caution for a spin by Ken Mullins in turn 4. Zack Beaman, Bob Greiner, Mike Easley and Gary Flammang rounded out the top 5.
Next race at Yakima Speedway is the regular season opener May 2nd. It's a Saturday night special with reduced admission for those arriving before 6:30 p.m. Details are available on the Yakima Speedway website.
APPLE CUP RESULTS:
LATE MODELS (125 laps)
31 Jason Fraser, 39 Pete Harding, 73 Gary Lewis, 42 Jeff Jefferson, 36 Joey Tanner, 64 Garrett Evans, 49 Brian Levant, 12 Dan Obrist, 90 Gary Longley, 29 Shane Harding, 21 Jared Vorse, 10 Owen Riddle, 76 Amanda MacDonald, 51 Erick Hargraves, 37 Mike Longton, 34 Scott Walker, 10x John Boyatt
Lap leaders: 37 Mike Longton 1-33, 31 Jason Fraser 34-125
RJ'S TIRE FACTORY SUPER STREETS (50 laps)
51 Josh Wilson, 98 Zack Beaman, 26 Bob Greiner, 75 Mike Easley, 91 Gary Flammang, 7 Tony Huffines, 52 Ben St.Mary, 02 Todd Connell, 04 Mike VanAmburg, 03 Ken Mullins, 95 Buck Noel, Jr., 17 JC Wofford, 38 Dusty John, 25 Chet Beaman, 16 Ashley Beaman
Lap leaders: 38 Dusty John 1-19, 98 Zack Beaman 20-29, 38 Dusty John 30-33, 51 Josh Wilson 34-50
BURGER RANCH SPORTSMAN (35 laps)
52 Randy Marshall, Jr., 2 John Raney, 7 Reese Kastl, 04 Mel Patnode, 54 Jesse Vincent, 11 Terry Taylor, 55 Kevin Taylor, 16 Barry Mueller, 12 Ed St.Mary, 00 Dan Wilson, 63 Don Klang, 5 Chris VanAmburg, 42 Jason Huffines, 95 Thomas Benscoter, Sr., 14 Mike Hill
H&H FURNITURE PURE STOCKS (25 laps)
27 Jay Younker, 09 Ron Pepper, 36 Joe Estep, 5 Jeff Liebert, 58 Derek Raptcheff, 31 Terry Cook, 84 Tyson Richter, 16 Nathan Voyles, 87 Rob Allen