Washington Could Be Closer to Recognizing Hydropower As Renewable Resource
Posted:
Updated: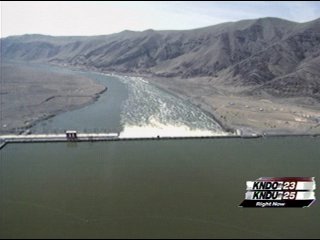 Amending Initiative 937 has been tried over and over again, that's according to Representative Larry Haler, (R) 8th District.
It consists on recognizing hydropower as a renewable resource. Reliable, clean, and at a low cost, that's how hydropower in Eastern Washington is described.
"One of the prime members of the Washington Environmental Council is the American Rivers Group, they are filing suit continually against the federal government to tear down our dams," said Haler.
Many of the dams he talks about are vital to many aspects of the local economy.
"We want to keep our snake river dams alive and well that's what really powers agriculture in our state," said Debbie Bone-Harris, with Franklin PUD.
Debbie says Franklin PUD already invests in renewable energy.
"Because I-937 mandates renewables it's driven the cost of wind power way up," said Bone-Harris.
Investing in hydropower would bring down their costs and also yours.
"Those costs will eventually be passed on to our customers," said Bone-Harris.
The PUD says hydro is also more reliable since wind only works about 25% of the time.
"The coldest days of the year and the hottest days of the year the wind doesn't blow, so having hydropower is needed to firm wind power," said Bone-Harris.
Haler says many companies on the West side oppose hydropower becoming a renewable resource, because they've already invested in wind.
"They're obligated to pay off that wind power and having all the water as renewable that means they can't raise their rates," said Haler.
Representative Haler says while the bill passed the House, it didn't pass the Senate on Monday. Now it moves back to the House for further action.
Haler says all other 49 states in the country already recognize hydropower as a renewable resource.