Family Returns Home After Baby Receives Heart Transplant
Posted:
Updated: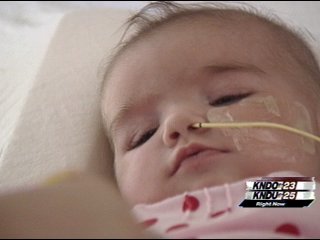 YAKIMA, Wash-- Every parent prays for a healthy baby and when Karlee Jenkins' heart failed her family couldn't believe it. She's just returned home from Seattle's Children's Hospital after a heart transplant.
Karlee Ann Jenkins turned six months old on Monday. But, it wasn't long ago that she only had days to live.
"She was just moaning and groaning and barely hanging on. It was just miserable," said Devon Jenkins, Karlee's mother.
Karlee's body was shutting down. She had spongy form heart, a condition that had been misdiagnosed at birth. A heart transplant was Karlee's only option.
"Devon did everything by the book, I mean there was like nothing that she did wrong, you just don't dream of something like this happening," said Deena Amidon, Karlee's grandmother.
Karlee is one in two million. Spongy heart is an extremely rare condition. Also rare, a heart transplant on a child so young. But, Karlee's a fighter and her story is touching thousands. People have been following on her web site.
"I mean we've had people that we don't even know have contacted and have sent us things that have helped everyday, it's just, wow," said Amidon.
Karlee and Devon got to come home this weekend. They've been in Seattle since the transplant in February. Karlee will have weekly doctors visits at Children's Hospital and she will be on medication for the rest of her life.
Someday Devon hopes to say thank you to the family that donated Karlee's new heart.
"That's very important for me and Ryan to just say thank you and let them know that they saved our baby," said Jenkins.
The Jenkins family appreciates all the community support. However, they can't take visitors right now because Karlee's immune system is so low.
You can follow her progress on her Web site: http://www.caringbridge.org/visit/karleeannjenkins.