Sunnyside Battles Graffiti With Murals Designed By Student Artists
Posted:
Updated: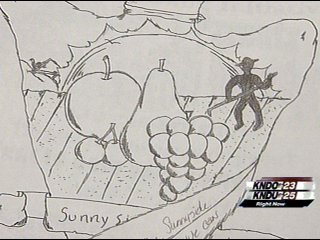 SUNNYSIDE, Wash-- Sunnyside has a graffiti problem and community members are fed-up. A group of people are taking matters into their own hands, battling graffiti with art.
Graffiti is a huge problem in Sunnyside, it's expensive to paint over and business owners call it frustrating. Doctor Justin Heiden said he was painting over the fence outside his dental office all too often.
"Almost on a weekly basis," said Heiden.
To combat the graffiti problem a group of community members and art students are painting murals. The fence outside Dr. Heiden's dental office is the pilot project. Students submit drawings and business owners pick the design they like best. The hope is that people will be compelled not to spray paint over the art.
"Doing some research, looking across the country, it looks like it's pretty effective in some places. So, we're gonna give it a shot," said Deputy Chief Phil Schenk, Sunnyside Police Department.
But, there's actually a place in Sunnyside where this idea has already worked. The guard rail behind Safeway used to be plagued with graffiti, that is until community members took action. Several years ago they painted it and covered it with hand prints. It hasn't been tagged since.
Students made a grid and sketched the outline of the mural last night. Doctor Heiden picked the design because of it's meaning.
"The art actually showed a lot of what this area is known for and I think it had a lot of character," said Heiden.
Plenty of students are happy to help, they keep submitting designs and offering to paint. Eventually, over a dozen murals will be painted in the city. The Sunnyside Police Department is grateful for this proactive community effort.
"I mean I'm thrilled, we've gotta have our community mobilized and helping take care of this issue," said Schenk.
The students will work on painting the mural after school. It should be completed within a few days.