Many Groups Honoring Earth Day in Tri-Cities
Posted:
Updated: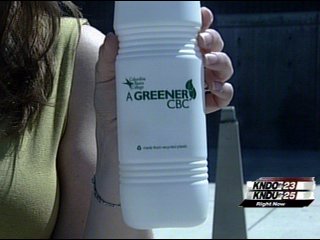 RICHLAND, Wash.-- One day away from Earth Day, and many in the Tri-Cities are thinking green.
For the city of Richland, what better day to announce their new curbside recycling program
"The citizens of Richland like to recycle, they see the need for it, and they participate in that fully," said Mark Chidester, Solid Waste Collection Supervisor for the city.
Chidester says the average household can have up to 50 pounds of recyclables a month. More recycling in Richland means more space in their landfill.
"The longer we can keep that space from filling up, the longer we can keep our garbage rates down," said Chidester.
In Pasco, Columbia Basin College students and staff are also doing their part to honor mother nature.
"Job's Nursery is helping us and we're planting a new tree on campus," said Syvia Leventhal, Student Program Specialist.
Some more trees are being planted by students at River's Edge High School in Richland. At CBC an environmental fair will include displays and a movie.
This year's theme is choose to reuse and CBC is also giving away free reusable bags and water bottles.
"CBC has been green for a while, but pushing it so that people know that we're green and realizing that there's more they can do," said Leventhal.
Going green can also help your pocket. Starting Wednesday you can check out a "Kill-A-Watt" from any Tri-City library.
It's a device to see just how much power is being used and how much money is costing to keep your electronics plugged in even if they're off.
This Friday and Saturday the SEE Expo is happening at Columbia Basin College. The event is free.