A Greener Home Could Save Your Money And Your Health
Posted:
Updated: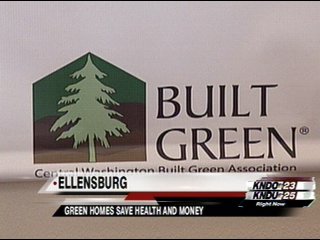 YAKIMA--Ellensburg's new "Built Green" community isn't just easier on the Earth. A greener home can be easier on your wallet, and your health.
Every house in the Greenfield Park community will be certified "Built Green," but what does that actually mean?
To start, they're doing more with less. Town and Country Homes President Matt Willard said the average three-bedroom house and lot takes up 9,000 square feet.
"These homes are on a 4,000 square foot lot," Willard said. "You're taking up less property, using less land."
Then add more efficient appliances, from the refrigerator and furnace, to faucets that waste less water, meaning you'll pay less.
"They're going to have lower reduced energy bills, lower water bills," Carly Faul, Exec. Dir. of the Central Washington Home Builders Association, said.
And, a greener home won't just save you green on utility bills. It could also save you and your family's health. That's why this house has hardwood floors.
"The use of less carpets is obviously more healthy for you because [the house] doesn't have the formaldehyde [present in many carpets]," Willard said.
What's on the walls makes a difference too. The paint in these houses is low in V-O-C's--that's volatile organic compounds--that have been linked to respiratory problems. It's a little more expensive than standard paint but much healthier."
Willard said fumes from paint, vinyl or carpet pollute the air.
"You spend 75% of your time living in the house but really it's not very healthy for you."
Even if you're not looking for a new home, you can make some changes without breaking the bank, like switching to compact fluorescent light bulbs.
"A lot of the build-green components you can do for relatively no money," Willard said.
But, now might be a good time for larger renovations too.
Some companies, along with the federal government, are offering tax incentives right now for people who make energy-efficient upgrades, like windows, to their home.