What Will Become of Vineyards Resort?
Posted:
Updated: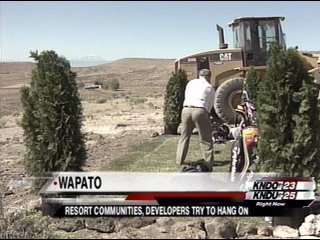 WAPATO--It's been five months since the Vineyards Resort declared bankruptcy just months after breaking ground on their upscale housing development in Wapato.
Can the project be revived?
Prospects looked bright when developers tossed the first dirt and teed off on the project in September, but a lot's changed since then.
The Vineyards had to file for bankruptcy in November, putting the resort on hold indefinitely.
The developers need more financing, but right now commercial banks aren't lending.
"Developments like ours, that's their lifeblood, Vineyards Resort Developer Rich Barnes said. "There's not any significant equity available right now."
Barnes agrees that Yakima's been fairly well insulated from the nation's economic struggles.
Unfortunately, that hasn't mattered.
"You can't tell a banker in Minneapolis or New York how cool Yakima's going," Barnes said. "They don't get that. They don't understand."
Home sales at the Lower Valley's other resort community, Zillah Lakes, have also been slowed. Developer Steve Strosahl thinks starting construction earlier than the Vineyards did may have saved them from a similar fate.
"We had a good part of our project underway by the time [the economy] really started to turn down," Strosahl said. "We had a number of sales already in place so we were able to kind of continue through it."
Strosahl said cheaper homes are selling better locally. That often can signal a turnaround for more expensive places like Zillah Lakes.
But finding buyers isn't all Strosahl and Barnes must do. They've also got to help those buyers find financing.
The Vineyards' future also depends on financing. Barnes said they're committed to working through these tough times.
"We're still optimistic about the project, frankly," Barnes said. "[We're] very optimistic about the Northwest and the market that we're aiming the Vineyards Resort at."
Both developers we talked to sense an up-kick and think the housing market will turn around in the next six to ten months.
But, it could take until the new year before the Vineyards' developers are able to get the money they need to start construction.