Yakima Airport Anticipates Changes
Posted:
Updated: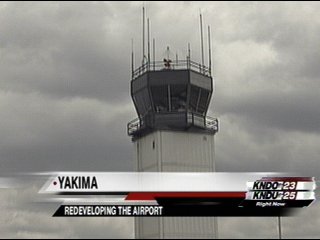 YAKIMA, Wash. -- With a new airport manager, the Yakima Airport also has a new vision with big plans for the future.
Even during an economic slowdown, for places like airports now the perfect time to redevelop.
Yakima airport's manager says they plan to bring in lots of new businesses and possibly more airlines.
The manager hopes that over next few years, the parking lot at the airport will be even busier, with an airport tower, 2 full runways and lots of available space.
Manager, Mike Redmond plans to redevelop this area and attract new businesses to Yakima. He says, "These things puts us in a very good position right now in a recession is often time a good time to go into talking to businesses"
As a part of the 3 year plan, Redmond wants to lease out some of the airport's empty property to big businesses like aircraft repair companies and companies that rehabilitate old commercial planes into cargo ones.
Dave McFadden works at New Vision and says doing this could stimulate the local economy. "To come in, build facilities, put people to work; these kinds of investments reverberate throughout a community."
But there are some challenges. McFadden says, "They lack some of the final utilities, they have more challenges in terms of being ready for that business today or tomorrow."
But with work, McFadden says the empty lots around the airport have great potential for redevelopment.
Redmond says they're also trying to attract more airlines and get more activity to come through Yakima next. They'll re-examine the land around the airport to determine what spots are available for re-development. The manager is also trying to get more airlines to come to Yakima.