Yakima Water Department Reminds Residents Don't Drink Hose Water
Posted:
Updated: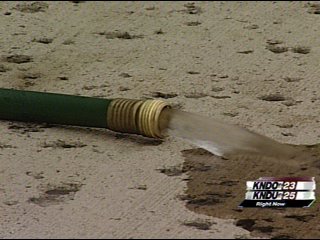 YAKIMA, Wash. - As people spend more time in the yard, the temptation to get a quick drink from the hose grows but City of Yakima staff say that is no different from taking a drink straight out of the Naches River.
Most of the Yakima Valley gets their irrigation water sent separately from their drinking water. In the city of Yakima, irrigation water comes directly from the Naches River.
Dave Brown is the manager for water and irrigation for the City of Yakima. He says the water coming out of a hose is not for drinking.
"You know usually when you drink from a hose it tastes kind of funny," he said. "That's because there's things in there that shouldn't be there."
While the water you get from the tap has dirt and bacteria removed, gets disinfected, and tested hourly; irrigation water is never tested and flows without treatment. Those are just a few of the reasons Brown believes residents will not want to drink their irrigation water.
"The city of Naches puts their waste water into the Naches River, so you don't want to be drinking raw river water," he said. "It can cause all kinds of gastrointestinal diseases, it'd make people pretty sick."
Some residents may have their drinking water coming out of garden hoses. If your hose bib is connected to your house it is likely carrying the same water that comes out of your tap. But those homeowners should not drink from the hose either, according to Brown, because your hose is made up of unsafe materials that will end up in the water.
Some of the medical concerns associate with drinking water from a hose could take several weeks or months to get out of your system.