Kittitas County Solid Waste Building Composting Facility
Posted:
Updated: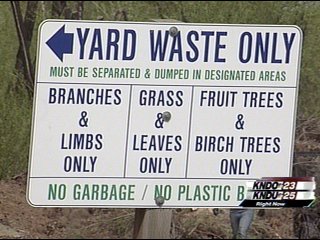 ELLENSBURG, Wash-- Kittitas County Solid Waste is tackling a waste problem, without any expenses to tax payers. They're building a self-sustaining composting facility.
A construction crew is scratching the surface of what will soon be a compost facility. Yard waste, clean lumber and straw bedding will be turned and cured into compost. Then sold to the public.
"Solid waste is totally independent of the general fund so all of our revenue comes from the tip fees and from selling our product," said Patti Johnson, director, Kittitas County Solid Waste.
Plenty of people dump their clippings at the site now. But, chipping up the waste doesn't kill weed seeds that can re grow in your yard or flower bed. The new facility will make clean compost, free of contaminants. The community has already shown interest in purchasing the compost.
"I'm a firm believer of reusing it," said Bob Bishop, customer Kittitas County Solid Waste.
It'll take about 90 days to turn yard clippings into a sellable compost.
The $1.5 million composting facility is being funded by a grant from the Department of Ecology and existing Solid Waste reserve funds. It will keep organic materials out of the landfill. Last year, two thousand tons of yard waste was dropped off for disposal.
The compost facility is being built to handle three times as much waste.
"The facility is being designed to handle six thousand tons of waste," said Johnson.
The new facility should be up and running in a couple of months. Compost prices will be determined by operating costs.