KNDO Celebrates 50 Years in Yakima Along with Other Successful Businesses
Posted:
Updated: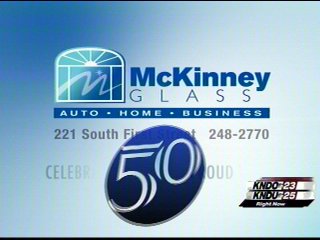 YAKIMA, Wash-- KNDO is preparing for a landmark celebration, 50 years in Yakima. In honor, we're highlighting businesses, organizations and people who've made the journey with us. Wednesday we talked to a company thats also celebrating 50 years of success.
The key to a successful business has been passed down for three generations at McKinney Glass. A simple business moto that started with mike McKinney's grandfather in 1958.
"The first day that I started here my dad told me, you know the reason why we're successful is that we take care of our customers and we make sure that every customer is happy," said Mike McKinney, owner, McKinney Glass.
McKinney Glass has proven they're a cut above. Surviving economic ups and downs and changes to the industry. Replacing car windows was a little different when the shop first opened.
"So when you needed a glass you would get out the pattern and cut a glass and put it in," said McKinney.
Now, windows are premade by car make and model. McKinney Glass keeps popular models in stock. As technology changes, their location on South First Street has remained constant. Except for a few exterior updates.
"We've looked through the years maybe moving somewhere else, but we've always come back to the same thing people know that we're here and there's a lot of consistency with that," said McKinney.
The most recent façade was done in honor of hitting the 50 year mark. A simple business model of service and a positive reputation with customers has kept people coming back to McKinney Glass.
"Getting ready for another 50 years," said McKinney.