McCurley Integrity Dealerships Expand in Tri-Cities
Posted:
Updated: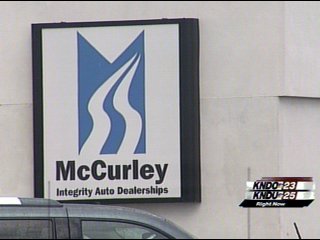 KENNEWICK, Wash.-- Car sales in the Tri-Cities will look a little different from now on. An empty parking lot at Lithia Ford is the first sign of change.
"It probably should have happened a long time ago though, because there's only one Chevy store in town, one Toyota store, so there probably should have been only one Ford store," said Cliff Smith with Legacy Ford.
All the cars have now been bought by Legacy Ford while Bill McCurley bought the property. Staff at Legacy say customers should see no changes to their warranties and lifetime oil change contracts.
"If they purchased it at the Ford store, we're going to honor those contracts here at Legacy Ford," said Smith.
Along with the Lithia property, Tri-City Honda was also bought by Mccurley.
"We're going to lower the price of Hondas, take the dealer additional mark up or the side stickers off the car, we think people from outside the area will chose to come here because of that," said McCurley.
The location in Kennewick will soon be remodeled and find a new home at the old Lithia. At the old Honda will be Mercedez Benz, and in the Benz lot Cadillac.
As for the services, McCurley says they'll also remain the same.
"To make it as easy as possible we'll bill Lithia on a monthly basis and provide those services for the customer," said McCurley.
In the Tri-Cities since 1981 McCurley says he hopes the changes will keep business local.
"We would hope that people would be very pleased that we're expanding and we think that's true," said McCurley.
All the changes could be done in a little over a year.