Tri-Citians React to President Obama's First 100 Days in Office
Posted:
Updated: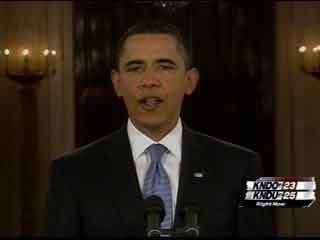 WASHINGTON, D.C.-- In a prime time press conference on Wednesday night, President Barack Obama said he's proud of what he's accomplished in his first 100 days. He also says he's surprised by the number of problems he's been forced to face.
President Obama says despite the economic crisis, he's off to a good start, but not content. He says the first one-hundred days were all about damage control. "This budget builds on the steps we've taken over the last one hundred days to move this economy from recession to recovery and ultimately to prosperity. We began by passing a recovery act that has already saved or created over 150,000 jobs and provided a tax cut to 95% of all working families."
President Obama says the rest of his first year will focus on prosperity and security.
KNDU asked people in the Tri-Cities to give President Obama a grade based on his first 100 days. The responses we got were between an A- and an F.
One woman explained, "He's going fairly good on handling the crisis."

A Kennewick man said, "We're still dealing with the banking institutions, and we're not, even though we're putting money into the economy, we're not actually still dealing with all the reforms that need to be happening."

Another woman said, "I would say he needs to cool off on all the money giving out, but otherwise, he's doing pretty good."

One young man explained, "We'll see if he does any better than our last president, so I guess, only time will tell."