Wash. boy's Face Attacked By Dog In Vicious Attack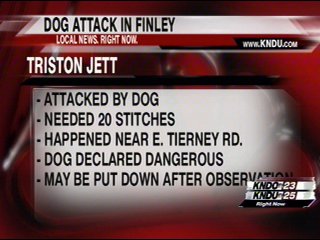 Associated Press - May 3, 2009 1:15 PM ET
FINLEY, Wash. (AP) - The mother of a 9-year-old Finley, Wash., boy says he needed 20 stitches to close wounds to his face after he was bitten in a vicious attack by a neighborhood dog while walking home from a friend's home.
Sgt. Ron Sabin of the Benton County Sheriff's Office told the Tri-City Herald, "It sounds like he's lucky to be alive. It was a serious dog bite."
The mother, Shanda Reed, says the medium-sized border collie mix attacked her son, Triston Jett, and "tore his face up" before her son ran home on Friday evening.
Reed says the family took Triston to Kennewick General Hospital, where he was treated for his wounds and later released.
Sabin says the dog was found Saturday by authorities, who declared it to be dangerous. It will be chained or in a kennel at the owner's residence for the next 10 days for observation. Sabin says the people who live at the residence intend to have it killed after the observation period. The dog's owner is in jail.
Information from: Tri-City Herald, http://www.tri-cityherald.com
Copyright 2009 The Associated Press. All rights reserved. This material may not be published, broadcast, rewritten or redistributed.