Finley Boy Gets Attacked By Dog, But There is No Animal Control in the County
Posted:
Updated: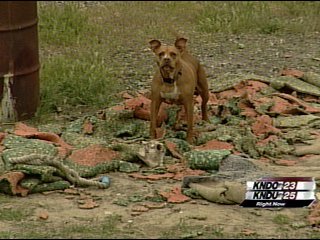 FINLEY, Wash-- Last Friday a Finley boy was brutally attacked by a dog. KNDU found out what happened to the dog and why rural Benton County still doesn't have animal control.

A nine year-old boy was walking a little ways from his house when a dog knocked him to the ground and attacked him. The boy had to get 20 stitches on his face.

KNDU just missed talking to the boy and his mother, but a friend tells us they were on their way back to the hospital. That friend also happens to be the dog's owner.
This is the way it's always been Jessi Matthews said. She has three dogs and some puppies. Dogs in the county don't have to wear leashes. Most don't even have collars.
"That has been a huge problem up here, stray dogs has been a huge problem," said Matthews.
Matthews lives off Meals Road in Finley with her aunt. On Friday one of their dogs, a border collie mix, who was not kept on a leash or fenced in, attacked nine year-old Triston Jett. Since then the dog has been put down.
"My children loved that dog. I'm sad but I'm more sad for Triston. He's my son's best friend and it's awful. That's an awful thing he's going to be scared for life," said Matthews.
We were unable to talk to Triston's mom, Shanda Reed, Matthew's says she was on her way back to the hospital because she thinks his wounds are getting infected.
"Apparently, the dog had bit a child prior to him coming and staying with me and I did not know that. I was not aware of it," said Matthews.
The Benton County Sheriff's Office says they get calls about stray animals all the time even dog attacks, but there are really no ordinances or protocols for what to do with these dogs. Benton County Commissioner Jim Beaver says they are looking into animal control options.
"It's possible that we might get a contract with Tri-City Animal Control. Again we don't have any facilities, we have no place to take an animal. We need to take a look at options," said Beaver.
Commissioner Beaver says they are looking at animal control plans next Tuesday. He hopes by the end of the year there will be animal control in Benton County.