Yakima County Commissioners Name Jack Hawkins the New County Coroner
Posted:
Updated: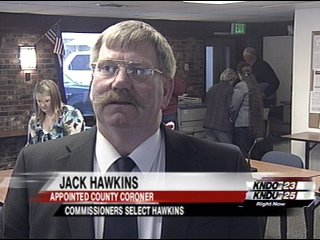 YAKIMA, Wash.- Yakima County Commissioners chose Jack Hawkins to replace Former Yakima County Coroner Maurice Rice. He was chosen out of three candidates.
Candidates spent their afternoon answering questions raised by County Commissioners. Jack Hawkins, the acting county coroner, Alberta Redwing, Benton County's former coroner, and David Johnson, a Yakima Sheriff Deputy, were all elected as final candidates in the race to finish Rice's term.
Taking this job is a big responsibility.
"The coroner is the only person who can release the sheriff if ever the need would be," said Final Candidate Alberta Redwing.
So County Commissioners are the ones who ultimately appoint this position. The coroner is responsible for overlooking autopsies, investigating crime scenes and working closely with family members and others involved.
"It's very important to do a fine and thorough investigation," said Final Candidate David Johnson.
"Work well with the family and that's really important. I want to give them something I feel I didn't have when my father died," said Redwing.
Hawkins says it's not just family members that coroners have to show compassion to, but the deceased people as well.
"You're the last voice for the deceased person to say this was done to me or this wasn't done to me you're their last voice," said the new Yakima County Coroner Jack Hawkins.
The county coroner also works closely with law enforcement, examining evidence and figuring out the cause of each death. Which can make all the difference in many cases.
Since Jack Hawkins was the acting coroner his term begins immediately.
"Thank God and thank you commissioners, thank everybody that called for my support, all the funeral homes, all the families that I've worked with," said Hawkins.
His term is up for re-election in November and Hawkins says he will be running again.