WSDA Collects Thousands of Pounds of Pesticides for Free
Posted:
Updated: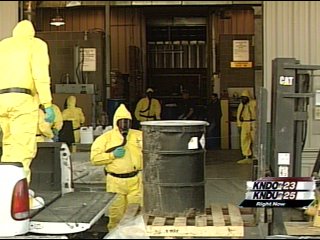 YAKIMA, Wash-- Farmers can pay for expensive private pesticide clean-up, illegal dumping is hazardous, so the option many people are utilizing is a free pesticide collection program. It's put on at the Terrace Heights Landfill by the Washington State Department of Agriculture.
"There's a lot of nasty stuff out there that we don't want in the ground and these guys have an excellent way of disposing of it," said Marlin Halma, customer.
The WSDA has been safely disposing pesticides for over 20 years. It's all part of a free program where farmers and people like Halma can get rid of old, outdate or now illegal pesticides. And again, it's all free.
They've seen chemicals that have been sitting in back sheds for years. But, as word spreads more farmers are taking advantage of this annual disposal program.
"And I think what's interesting is probably the average age of these chemicals and pesticides is about 20 years," said Bob Gore, WSDA deputy director.
But, it's not just farmers that need to get rid of dangerous chemicals.
"I moved onto this property a couple of years ago and I found this barrel of stuff in the back corner," said Halma.
That barrel of stuff turned out to be pesticide left by a previous land owner. The WSDA doesn't care what pesticide you're bringing in or if you're the one who purchased the chemicals. They just want to make sure all pesticides are properly disposed.
The WSDA took in 37,366 pounds of pesticides at this years event. It will be taken to a facility out of state, then sorted and burned in a special incinerator.