Customer Service and Good Food Helps Jean's Cottage Inn Survive the Economy
Posted:
Updated: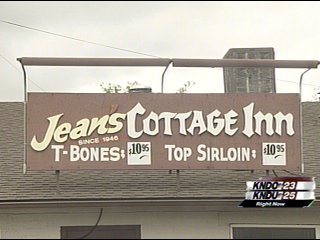 YAKIMA, Wash.- KNDO is preparing for a landmark celebration of 50 years in Yakima. In honor, we're highlighting businesses, organizations and people that have been around for just as long.
Around the Yakima Valley, Jean's Cottage Inn is known for its large steaks. The seasoning and big servings is what keep people coming back.
"I come here once a week to have lunch with a group of people that come out from Moxee," said Roy Wilson, a customer at Jean's Cottage Inn.
Regulars have been coming for years.
"The food is kind of a meat, potatoes and gravy type-place," said Wilson.
Customers say very little has changed. The food comes in big servings, the taste is great and the restaurant always seems to be busy. The only thing that has changed is their location. Allan Marks became the owner over 19 years ago and says the original restaurant was built across the street in 1946.
"And then in 1962 we moved over here, which I wasn't even born yet," said Allan Marks, the owner.
The restaurant's walls are decorated with old menus to remind everyone of the great service Jean's Cottage Inn started with. Now, more than 60 years later, customers say that great service is still around.
"They seem to know everybody that comes in a lot of repeat customers, surprisingly, I kind of watch and they know how people like their steaks, their hamburgers," said Wilson.
Marks says they've been able cut down on expenses by cutting their own steaks and doing more work themselves, but it's their customer service that's ultimately kept their business alive for so long.
"Customers keep coming as long as they keep coming we'll be here, its just you know, they are family," said Marks.