Ben Franklin Transit Gets More Federal Money
Posted:
Updated: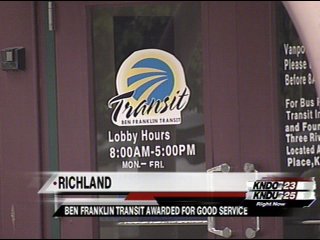 RICHLAND, Wash. - Ben Franklin Transit is awarded more than $800,000 from the Federal Transit Administration for good service. But not everyone believes extra federal money should go towards local transportation.
Not only does Ben Franklin Transit get more money, but they also get bumped up to a higher population bracket which allows for more funds. A Ben Franklin Transit representative said the money can only be used on capital projects to create jobs. Which is why they plan to use this money along with millions of stimulus dollars to renovate their main office and build a new administration office.
"We've been wanting to do the construction on this building for years and finally we have an opportunity to do that where we're not having to use a lot of our own cash reserves to do it," said Ben Franklin County Transit Spokesperson Christy Watts.
They also plan on expanding their maintenance building and move nearly a 100 Dial-A-Ride employees from a double wide trailer to the main office.
But Franklin County Commissioner Brad Peck who applauds Ben Franklin Transit for there service, questions whether or not more federal money should go to transportation.
"What matters is that we've got public services like health and schools and other needs that are dramatically under funded, and we've got a transit system that in my opinion is gold plated or certainly heavily funded to the point where they're getting awards for level of service. And the fact that they're the only ones in the state that achieved that level suggests to me maybe it's a result of tremendous amount of resources to work with," said Peck.
Peck plans to bring this subject up at a future Ben Franklin Transit Board meeting.