Big Apple Crop Not Leading to Big Profits
Posted:
Updated: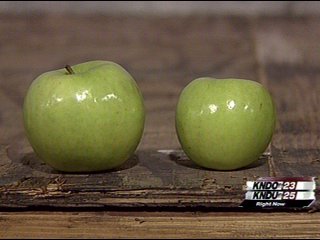 YAKIMA--Congressman Doc Hastings has a plan to jumpstart lagging apple sales.
He wants the U.S. Department of Agriculture to buy up to a million boxes of apples and give them to public programs.
Many of those boxes would come from Yakima County growers, but a bumper crop does not always mean big profits.
Last year, Washington growers had a record crop of about 112 million boxes worth apples.
One box holds 40 pounds worth of apples, but they're having trouble selling them. There are still some 32 million boxes still sitting in warehouses throughout the state.
That's about nine million more unsold boxes than in May the last few years, and two-thirds of those apples come from Yakima County.
Keith Mathews with the Yakima Valley Growers & Shippers Association said having the U.S.D.A. buy up some of those boxes could be crucial.
"This is almost like finding a brand new customer that you didn't expect [to have,]" Mathews said. "If we could remove some of this volume from the general marketplace, that helps bolster the price on what's left."
And, what's left from this crop isn't what growers--or U.S. retailers--want.
"When it comes to apples, size does matter. Last year's crop had a lot of these smaller apples and not enough of these larger apples, which are what grocery stores and consumers like to buy."
Mathews said shoppers usually look for fruit, not specifically apples. So, they need to stand out.
"Mostly [people] pick up apples when they catch their eye," he said. "So, the display looks nice, the apples look large they say those are nice, I will buy those."
Meanwhile, marketing reps from all over the county are in Toronto for a produce industry trade show.
"We're catching the interest of the retailer and we are doing our best of course to sell them on apples from Yakima."
International exports are huge for local apple growers, so trips like this one are important. Since those larger apples are mainly sold nationally, the large number of small apples won't affect international sales.
Still, Mathews said the '08 crop probably won't be sold out until this fall's harvest has already begun.