School Administrators Go Without a Day's Pay in Tri-Cities
Posted:
Updated: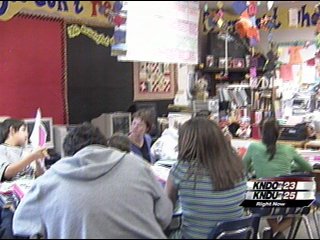 KENNEWICK, Wash.-- In the classroom it's business as usual but school administrators in the Tri-Cities know the cuts are coming.
"We are doing our best to retain teachers that are on contract," said Mike Hansen, Principal at White Bluffs Elementary in Richland.
In an effort to save money 150 administrators in Pasco, Kennewick, and Richland combined, have decided to go without a day's pay for the coming school year.
One Kennewick principal says it may be the first sacrifice of many yet to come.
"We're all just going to have to work together to make it work with our budget and we can do it if all work together," said Scott Parker, Principal at Highlands Middle School.
Going without a day's pay means about $74,000 in savings. The districts are taking after a similar effort back in 1944.
"The Hanford employees took a day's pay cut, it really helped jobs, so it's kind of the same spirit," said Parker.
With the money raised those Hanford workers bought a B17 Bomber to help in the World War II effort.
The same Bomber painted on a mural at Richland High.
"It's one of those themes we follow, if everybody does a little bit, the work is much easier," said Hansen.
The truth is these two principals know the cuts coming may not be easy and both say they have children in our local schools.
"Bottom line is my children in the system could be affected if we don't do something like this as a district," said Parker.