Search for Missing Rafters Suspended
Posted:
Updated: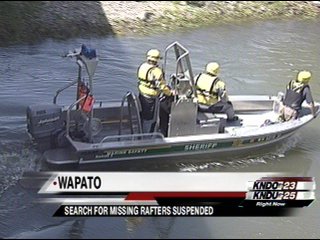 WAPATO--The search for two teens lost on the Yakima River after their raft overturned has been suspended.
Crews have not been able to find two teens that have been missing since 8 p.m. Saturday.
The Yakima County Sheriff's Office suspended Sunday's search at 2:30 p.m. after working since 7 a.m. because they just don't have enough manpower.
Search and rescue teams combed the area from the river and the air. Neighboring counties lent a small plane and a helicopter.
But, they didn't find the two teens, just a backpack and one shoe.
A friend says the four men, aged 15 through 20, set off downriver in two rafts near 16th Ave. in Yakima around 2 p.m. yesterday.
Their rafts overturned near the Wapato Dam around 8 p.m. Saturday. Two brothers from Wapato were found within an hour, but the other two--from Toppenish and Wapato, respectively--are still missing.
A friend told KNDO the four are experienced rafters, but the river is higher than normal right now.
Even though rescue crews called off Sunday's search, they're not giving up hope.
"It's Mother's Day today and resources, search and rescue is primarily volunteer help," Sgt. Judd Towell, Yakima County Sheriff's Office, said. "There's never a reason to give up hope. Time's always our friend and/or our enemy."
Towell said the search will resume on Tuesday or Wednesday once a plane or helicopter is available.
People close to the missing men were too shook up to go on camera, but they did say the two who have been found are okay.
They also wanted to thank volunteers for their efforts.
A YSO press release said one of the missing men was last seen wearing a red shirt, dark colored shorts and a red and blue flotation vest, and the other was wearing a blue shirt and blue shorts.
Sheriffs also want to remind people that at this time of year the river is very cold and very fast. There are also many hazards in the river and on the riverbanks.