Firing the Chief of Police, Easier Said Than Done
Posted:
Updated: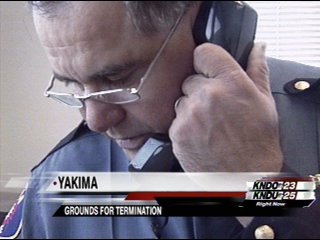 YAKIMA, Wash-- Police Chief Sam Granato has been faced with a number of allegations over the years, costing the city plenty of money in legal fees and staff time. And that has some people wondering if he should continue as chief of police.
Legally the city must investigate all allegations. So far Granato's been cleared. He's an "at will" position, meaning he's not on contract or part of the police union. He can't be fired because people don't like him.
"I think he should be fired, personally." "He probably should get terminated from his job." "I mean he should lose his job," said Yakima residents.

It's not as easy to fire the chief of police as people may think. Granato was recently cleared of accusations from Officer Stacy Andrews. The accused also have rights to due process.
"It's important in our world to understand that there are laws that protect everyone," said Dick Zais, city manager, City of Yakima.
Even though Granato's been cleared his track record has lead to a negative perception.
"People make judgements based on what they hear and based on what's being said. The allegations again have been determined to be false," said Dave Edler, mayor, City of Yakima.
Allegations are tough for the city manager. His judgement can't be based on public opinion. He looks at the findings of the investigator. The manager must also weigh what could be a wrongful termination and possibly a lawsuit.
"Did it rise to the grounds of what would be a terminable offense, I didn't believe so. Under the circumstances I don't believe that would be merited," said Zais.
But, that doesn't mean Granato did nothing wrong. Granato's personality and leadership style breached professional conduct according to the outside investigator hired by the City. As a repercussion Zais has mandated more training.
Supporters of Granato point to his history of being tough on crime and gangs.
"He's done some great things, he's a bull dog and I like that about him, he gets things done," said Edler.