After 50 Years Two Women Find Out They Were Switched at Birth
Posted:
Updated: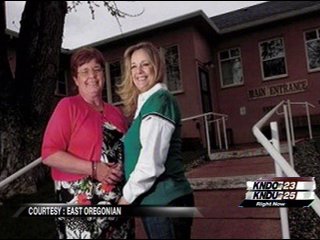 KENNEWICK, Wash-- More than fifty years after they were born two women find out they were switched at birth. The accidental swap happened at Pioneer Memorial Hospital in Heppner, OR.

It was on May 3rd in 1953 that Kay Rene Reed and DeeAnn Angells were born. Just a couple months ago Kay Rene's brother Bobby got a phone call from an 86-year-old woman who knew both families.
The woman claimed on the day they were born the nurses took both babies for a bath and when they returned they had been swapped. Rumors about the mix-up had always circulated in the families.

Kay Rene, wanting to get to the bottom of this came up to Tri-Cities for some DNA testing. Sure enough the testing showed both women grew up in the wrong family.

DeeAnn later married took the last name of Shafer and settled in Richland. Her husband Rick says both families just recently met. They had a big birthday party for the women in the Tri-Cities last week.
"I was kidding with DeeAnn, you know we've been married 35 years and I've been kidding with her that I think the milkman had something to do with this, because you don't look like your family at all," said Rick Shafer, DeeAnn's husband.

"One minute she's happy about meeting a whole new family, the next minute she's sad because she never got to meet her real parents, her grandparents, cousins, nephews, nieces, it's a very emotional time for her," Shafer added.


KNDU also tried to contact the other woman involved in this story. She settled in Heppner, OR and also married.

This news is the talk of the small frontier town and it's where Kay Rene Reed, now Qualls and her husband live and happens to be the same place where both girls were born at Pioneer Memorial Hospital.


The hospital administrator says they were the only babies born on that day and it was in what is now the hospital administrator's office.

Qualls works just down the street, at the Bank of Eastern Oregon in new accounts. She lives about thirty minutes south of Heppner on a ranch where they raise cattle.

KNDU talked to her best friend who says even though she looked nothing like her siblings, her mom never thought twice about it.
"Her mom never wanted to believe that she was not hers, she wouldn't even think about it. Her mom said she's my kid and that's it," said Florene Robinson.
At a family reunion Kay got to meet her biological sisters and they look just alike. Kay and DeeAnn now call each other "twisters."

Both sets of parents are no longer alive, so they never got to know that the two babies were switched the day they were born back in 1953.
On Wednesday, DeeAnn and Kay are flying to New York with their families. They'll be making an appearance on a national morning show later this week.