Major Education Cuts Hit Columbia Basin College in Pasco
Posted:
Updated: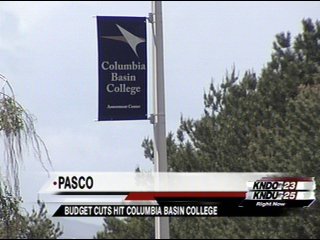 PASCO, Wash.-- Education cuts hit Columbia Basin College with a loss of more than $3 million.
The president of the school says it means services for students won't be the same.
"To turn people away or to say no, to close the doors to higher education is not an answer for a 21st century society," said Richard Cummins, CBC President.
Out of 55 job losses, 9 are full time faculty, 27 staff, and 19 are part time. Programs eliminated include Autobody, Paralegal, Human Services, and the daytime Fire Science program.
On campus those who know about the cuts are speaking out
"It's close to home and is not as expensive as going to a university, and if it's being cut, what are they going to do now?," said Evelyn Cantu, a student.
With less money, Cummins says enrollement into the school will also be cut by about a thousand spots.
"This was meant to be an open door community college, and now that they're not accepting people, it might as well be a university," said Miguel Horton, a student.
Budget talks are also hitting the classroom according to one student, who knows the cuts won't just affect the school but students' pockets.
"It's going to be a lot more loans most likely, and a lot more students are going to be going into debt," said Garrett Questad.
Oher programs affected include Academic Transfers, GED, and ESL.
Plans for a new Languages and a Social Science building are now gone and other construction projects were also heavily affected.
"No I don't think the worst has happened yet, the economy has not bottomed out, so there are probably some bad times still ahead," said Cummins.
The president at CBC says the 55 faculty and staff that are being let go will work on campus until June 30th this year.
Any students currently enrolled in the programs being cut will have the chance to finish next year.