Yakima Church Turning 50 Along with KNDO
Posted:
Updated: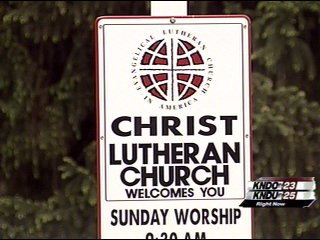 YAKIMA--Just like KNDO, Christ Lutheran Church on Lincoln Avenue's celebrating 50 years serving the people of Yakima.
Christ Lutheran held its first service about a year before KNDO began broadcasting in October 1959, but didn't become officially recognized until May of that year. Their lot used to be a pear orchard, but members of the congregation cut down and sold the timberwood to help build the church in 1962.
Pastor Wendell Jacobsen brought Christ Lutheran into existence 50 years ago this week.
While he said bringing that first congregation together was a daunting task, he calls his seven years in Yakima the best of his career.
"Now they're continuing to grow and be a very viable congregation 50 years later," Jacobsen said.
Original members have grown old or passed on, but Christ Lutheran's still going strong.
"It's amazing," current Pastor Carol Nelson said. "The spots that we thought no one could fill, someone comes along and their talents just match what the congregation."
Today's members are a mix of young and old. So how has the church been able to not just survive, but prosper?
"We keep the relationships that we have with each other, but we outreach to the greater community at large," Jay Carroll, who's been a member for 22 years, said.
"We are committed to who we are: We are God's children and we are called by God to be here," Nelson said.
Nelson's only the sixth pastor at Christ Lutheran in the past 50 years.
She decided before she got this job that she'd retire to the Yakima Valley, so Christ Lutheran will be her last stop.
But, members hope this 50th anniversary celebration is only the beginning for their church.
"Show Yakima that we're here for them for the last 50 years and the next 50 years," Carroll said. "That's what we do."