Cost of a DUI
Posted:
Updated: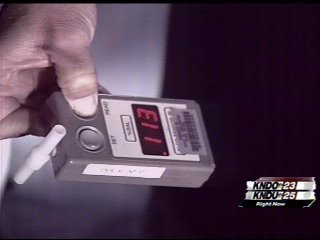 RICHLAND, Wash-- There's an old saying--'crime doesn't pay.' But the stats are alarming; DUI arrests in the city of Richland are up 61% this year, costing drunk drivers thousands of dollars.
"I think everyone in the country has a DUI problem, Richland no different than every one else," says Captain Mike Cobb of the Richland Police Department.
Think of the various fees, starting with just the basics.
"If your breathalyzer is below a .15, your mandatory minimum fine is $698," says Deputy Prosecutor Erin Wallace of Benton County. "If your breathayizer is above a .15, your mandatory fee is $953."
Benton County Deputy Prosecutor Erin Wallace handles a number of DUI cases a month.
"Roughly you're looking at between $1,200 and $1,500 dollars for baseline fines and fees for DUI."
It all builds up: $200 for restitution, $125 for breathalyzer fees, and $103 criminal traffic fees. The list goes on. A court appointed attorney will run you at least $200; private practice attorneys could run you thousands.
Then there's your car; it's going to get towed.
"Price of rotation is $177 an hour for the callout, and it's $45 a day storage," says Ronald Gaines, owner of River City Towing.
Not to mention they're closed on the weekend. Still, the list goes on. Insurance rates will likely skyrocket. In the end, getting a DUI could run you more than $5,000.
"Most of the money goes to the state of Washington and the Benton County Justice System. Very little of it comes back to the city of Richland, so it's not a financial incentive for us to increase our DUI arrests at all, it has to do strictly with public safety," adds Captain Cobb.