After Much Controversy, Selah Superintendent Resigns Wednesday Afternoon
Posted:
Updated: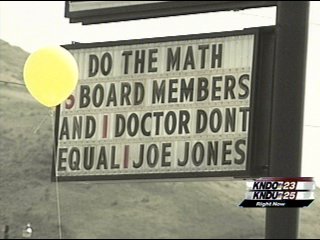 SELAH, Wash.- After weeks of protests, marches and meetings, the Selah School District has more news. The Superintendent Dr. Debra Howard is resigning.
Students and community members first protested High School Principal Joe Jones' resignation weeks ago. Principal Jones said Superintendent Dr. Howard had approached him, discussed their different teaching styles, suggested Jones resign.
Shortly After, students organized marches, had hundreds of people sign a petition and organized meetings to show support for Principal Jones. One after another, people spoke up against the Superintendent's intentions to have Jones resign. All the while, hostility between the superintendent and the community kept building up.
Now, months later, Principal Joe Jones is staying and Dr. Debra Howard has resigned.
"Everyone in the community really came together, it became a big issue and i think she was just a little taken back by all the support for Mr. Jones," said Selah Student Trevor Heilman.
Dr. Howard's resignation letter says it was a mutual decision between her and the school board. Students say they wish her the best but agree not too much will change at school.
"I think we will keep Mr. Jones here for years, so that's good news," said Selah Student Brandon Riddle.
Dr. Howard's resignation will be effective June 30th of this year and as stated in her contract, she will receive one year of compensation.
School Board members are working on appointing an interim superintendent. They plan to start looking for a new superintendent in the fall.