Two Yakima Dealerships Losing Their Chrysler Franchises
Posted:
Updated: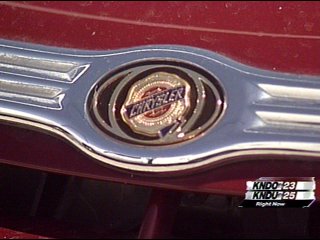 YAKIMA--The auto industry's continuing woes make their way to Yakima as Chrysler announces their local dealerships will close.
Two Yakima dealers--Lee Peterson Motors and Hahn Motor Company--will take down their Chrysler logos within the next month.
While the news came as a shock, both Lee Peterson and Doug Hahn say losing Jeep and Chrysler, respectively, won't force them to close because they have other brands like Jaguar and BMW. They also don't plan to lay anyone off or stop working on Chrysler vehicles.
The Hahns only got word they were on the list of nearly 800 dealers slated to close this morning. Surprisingly, they say it'll be business as usual.
"We don't look for that much of a change," Hahn Motors President Dick Hahn said. "However, right [now] we honestly don't know what's coming down in the next two or three or four weeks."
Both the Hahns and Lee Peterson are supposed to sell all their new inventory by June 9, or they'll have to sell the left-over cars to other dealerships that are staying open.
But both dealers say no one will lose their job and Chrysler owners can still take their cars in for repairs.
"We've got Chrysler parts, we've got the mechanics, we've got special tools," Dick Hahn said. "After all, we've had Chrysler for what, 85 years, so now we've got everything. People are not going to be orphaned owners or anything like that."
Lee Peterson's been selling Jeeps for more than 30 years. Declining interest in SUV's had sales down.
Peterson said seeing his dealership on the list was crushing.
"We'll miss the volume," Peterson said. "We'll just have to do better with the ones we have."
Even with no jobs being lost, losing those Chrysler franchises could be bad for Yakima.
"As car dealers we are the largest tax base for the city of Yakima," Hahn Motors General Manager Doug Hahn said.
Our other local Chrysler dealers are Mike Olson Dodge and Mid Valley Chrysler Dodge Jeep in Grandview. Neither made the list. A Mid Valley ymployee told KNDO he thinks his dealership didn't get the ax because they sell all three Chrysler brands.
This might not be the last bit of bad news for Yakima auto dealers: General Motors is looking to cut roughly 1,000 dealerships as well.
GM's supposed to be sending warning letters tomorrow. Peterson carries several GM brands but he's not sure whether he'll be on tomorrow's list of cuts.