Areva Nuclear Fuel Plant Celebrates 40 Years in Richland
Posted:
Updated: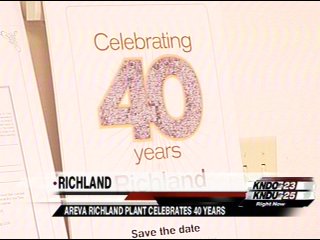 RICHLAND, Wash.-- It's been around for 40 years, but Areva's nuclear fuel plant in Richland is anything but over the hill.
The site manager says the Tri-Cities couldn't be a better location to keep business going.
"From a business perspective just the local support from the emergency response organizations, Kadlec hospital, Benton County Emergency Response, is tremendous," said Chuck Perkins, Site Manager.
The company's success is also in part to workers like Don Pedersen and Bill Bazemore, who've been with the company for 37 years.
"I started out in operations and worked my way up to supervisor," said Pedersen.
"When we got here the plant system and the instrumentation was mostly pneumatic and over the years we've gone to a computerized system, everything from HVAC to other technologies," said Bazemore.
Inside the plant nearly $4 billion in uranium is produced each year. It's about 5% of the electricity generated in the country.
"With new technology, there's more safety more interlocks," said Pedersen.
It's that type of safety that just earned the site another 40 year license.
"It's a fairly old workforce, people come here and work for a long period of time, eventually they will retire and getting the next generation of workers in here involved in the nuclear industry is our challenge," said Perkins.
One of the upcoming projects at the plant includes recovering uranium from ash and turning it into fuel. They've also announced they'll be recruiting new employees in six countries.
In the U.S. that will create about 600 new jobs.