Weather Cooling Off Cherry Expectations
Posted:
Updated: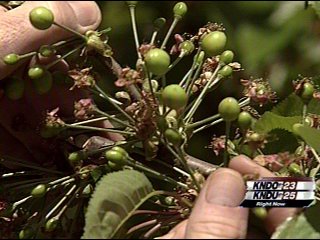 YAKIMA--The weather's still been unseasonably cool for this time of year, and that could affect the local cherry crop.
Orchards are a bit behind where they'd normally be at this time of year, but farmers are optimistic they'll be ready for the July 4 holiday.
It's survival of the fittest in cherry orchards. Mark Barrett says many of his Bing cherries didn't make it through the cool spring, but those that did look good.
"Each cherry should be a little bit larger if we don't have as huge a crop as was predicted," Barrett said.
Bings are Barrett Orchard's best sellers. All in all, this crop may not live up to expectations.
"The projection was for just a huge monster crop and I don't think we're going to have that."
Over in Selah, Marvin Record with Zirkle Fruit does expect a bumper crop. They want to make sure they get good-sized fruit too.
"That's the farmer's job is to get out and manipulate the trees and prune them," Record said. "That way the crop load matches their ability to raise a good-size cherry that the consumers are looking for."
Both Barret and Zirkle are employing as many workers as a normal May, but not all are getting as many hours.
"It definitely has delayed some of the work getting done," Record said. "We look at the jobs to be done as kind of a pool or a reservoir. The hours are there we just have to wait for the weather to cooperate."
The Fourth of July's the big day for cherries. Growers like to have the fruit available for people to put on their holiday spreads. Zirkle Fruit might cut it close this year.
"The peak of the harvest will be, we're hoping, just in time to get those trucks on the road to the East Coast markets," Record said.
While the weather may be starting to turn, both men say we still have a long way to go before they know for sure how this harvest will turn out.